NEWS
SEXPLOSION! RE-ISSUE
On June 17, 2022 Wax Trax! Records will re-release our 1991 album Sexplosion! on Limited Edition Vinyl. The re-issue has been remastered from the original tapes, and includes unreleased mixes and bonus tracks including "Any Way Ya Wanna", a long lost track recorded from the original sessions. 
Watch the "ANY WAY YA WANNA" VIDEO
Order the ALBUM
Track listing:
A Side 
A1. The International Sin Set 
A2. Leathersex 
A3. A Martini Built For 2 
A4. Dream Baby 
A5. Mood No. 6 

B Side 
B1. Sexplosion 
B2. Princess Of The Queens (The Lost Generation) 
B3. Sex On Wheelz 
B4. A Continental Touch 
B5. Mystery Babylon 

C Side 
C1. Any Way Ya Wanna (Previously Unreleased) 
C2. Sex On Wheelz (Midnite Marauder Mix) 
C3. Leathersex (Remix) 
D Side
D1. Sexplosion! (Mega-Mixxx)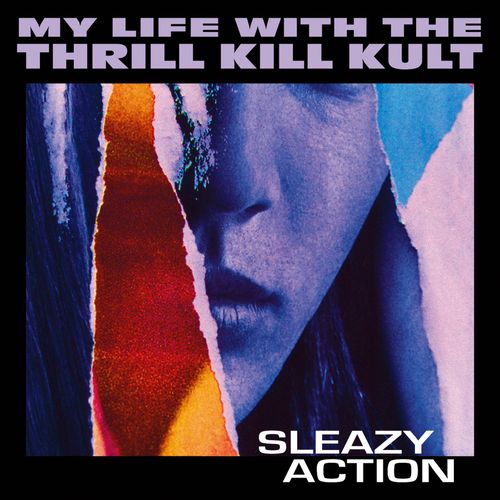 NEW SLEAZY BEATS
On 02/22/21 MY LIFE WITH THE THRILL KILL KULT will release "Sleazy Action" - a compilation of 12 previously unreleased remixes by TKK's Buzz McCoy, highlighting the group's past 12 years on Sleazebox Records. The album also includes new mixes from related endeavor BOMB GANG GIRLZ, as well as new songs by BUZZ McCOY, and Groovie Mann's DARLING KANDIE project.
CD available from sleazebox.com
Digital download available everywhere
TRACK LISTING
01. Bella Piranha (Hot Shot Mix) by My Life With The Thrill Kill Kult 
02. Studio 21 (Titan Mix) by My Life With The Thrill Kill Kult 
03. Hell Kat Klub (Klit Klub Mix) by My Life With The Thrill Kill Kult 
04. Want (Cockadoodledoo Mix) by Bomb Gang Girlz 
05. Royal Skull (Karmakazi Mix) by My Life With The Thrill Kill Kult 
06. My Wicked Ways (Babylonia Mix) by Darling Kandie 
07. Witchpunkrockstar (Heavy Mental Mix) by My Life With The Thrill Kill Kult 
08. Monti Karlo (Kasino Mix) by My Life With The Thrill Kill Kult 
09. Prism (Mata Hari Mix) by Buzz McCoy 
10. All The Way (S.T.R.U.T. Mix) by Bomb Gang Girlz 
11. Suite 16 (Love To Love Mix) by Buzz McCoy 
12. Lone Road (Dead End Mix) by My Life With The Thrill Kill Kult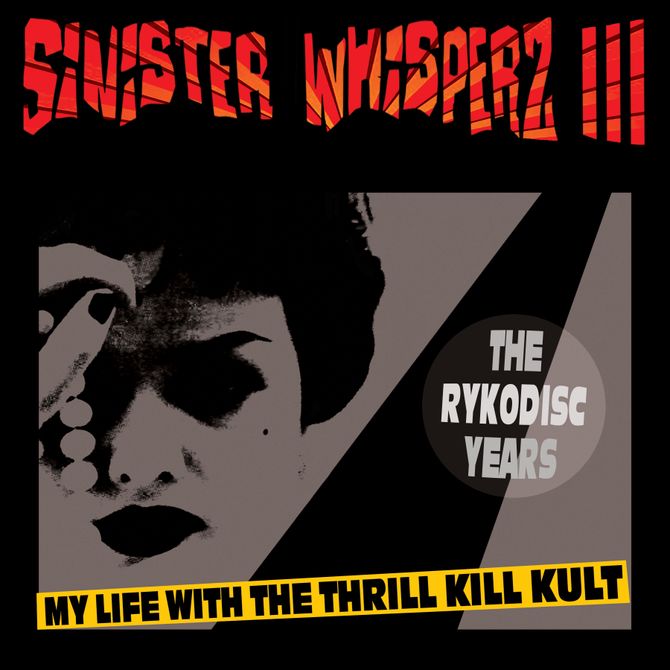 TKK RELEASE SINISTER WHISPERZ III
On 02/20/20, Thrill Kill Kult will release Sinister Whisperz III: The Rykodisc Years, the third installment in their retrospective Sinister Whisperz series. The album features 19 previously unreleased mixes highlighting the band's time on the Rykodisc label (1997 - 2007). The compilation includes songs from the LP's A Crime For All Seasons, Dirty Little Secrets, Diamonds & Daggerz, Gay, Black & Married, The Resurrection Of Luna and The Filthiest Show In Town. 
Previous releases in the series are 2011's Sinister Whisperz: The Wax Trax! Years and 2016's Sinister Whisperz II: The Interscope Years. All albums are distributed via SleazeBox Records.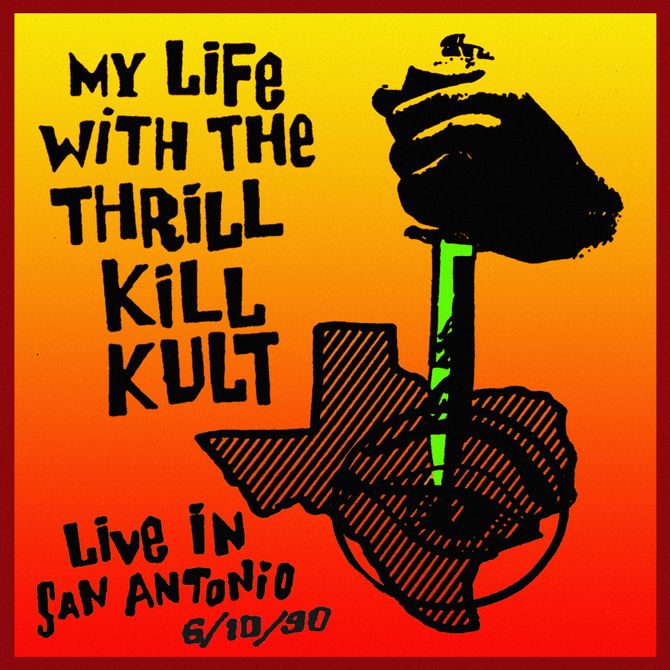 OUT NOW!
Digital Download Only
Live recording from 1990's infamous "Confession Of A Knife" tour.
Track listing -
1. First Cut
2. A Daisy Chain 4 Satan
3. Gateway To Hell
4. The Days Of Swine & Roses
5. These Remains
6. On This Rack
7. Burning Dirt
8. X - Communication
9. Do Your Fear
10 Ride The Mindway
AVAILABLE at http://www.sleazebox.com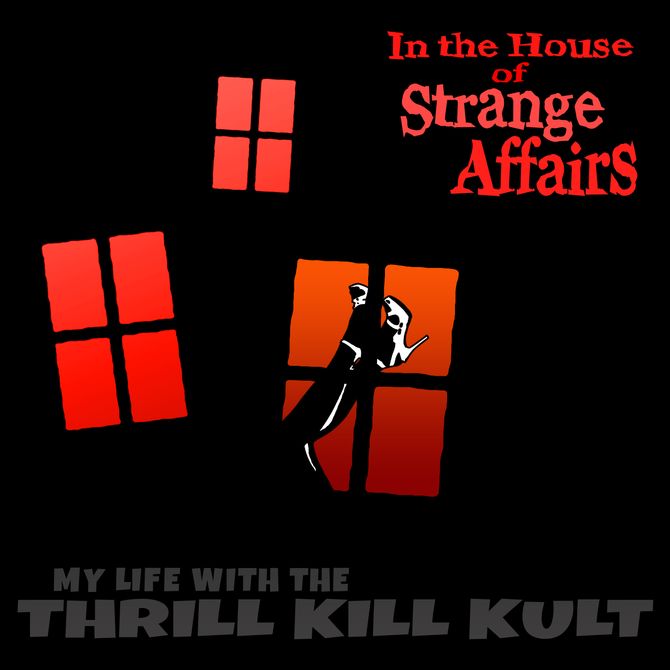 TKK RELEASE "SPECIAL EDITION" VERSION OF THEIR 14th STUDIO ALBUM!
TKK have released a remastered version of their latest album, "IN THE HOUSE OF STRANGE AFFAIRS), which includes bonus remixes by kETvetcor, En Esch & Josh Luttrell, Dogtablet, Buzz McCoy, GRVS, Probe 7
 06/28/19
NEW TOUR DATES! "Strange Affairs Tour" (Part 2)
TKK is very excited to announce Part 2 of the STRANGE AFFAIRS TOUR beginning Oct 18th in Detroit. We'll be heading east of the Mississippi this time, including Florida dates! We'll be playing an eclectic mix of songs spanning the past 30 years, as well as a few tracks from the new album IN THE HOUSE OF STRANGE AFFAIRS (sleazebox.com) 

Joining us as direct support is the awesome CURSE MACKEY (cursemackey.com) in support of his new solo album INSTANT EXORCISM  (negativegain.com)
Unfortunately there will be no VIPs or Meet & Greets scheduled for this tour...but you can usually catch the band hanging at the merch booth (or maybe the bar) directly after the show!

TOUR DATES
Oct 18   Westland, MI @ Token Lounge  *tickets
Oct 19   Cleveland, OH @ The Odeon  *tickets
Oct 21  Buffalo, NY @ Iron Works  *tickets
Oct 23   Cambridge, MA @ Sonia  *tickets
Oct 24   New York, NY @ Le Poisson Rouge  *tickets
Oct 25   Teaneck, NJ @ Debonair Music Hall  *tickets
Oct 26   Philadelphia, PA @ First Unitarian Church  *tickets
Oct 28   Harrisburg, PA @ Capitol Room  *tickets
Oct 29   Baltimore, MD @ Metro Gallery  *tickets
Oct 31   Greenville, SC @ Radio Room  *tickets
Nov 01   Jacksonville, FL @ 1904 Music Hall  *tickets
Nov 02   Tampa, FL @ Crowbar  *tickets
Nov 03   West Palm Beach, FL @ Respectable St  *tickets
Nov 05   Atlanta, GA @ Masquerade  *tickets
Nov 07   Chicago, IL @ Chop Shop  *tickets
Nov 08   Madison, WI @ The Crucible  *tickets
Nov 09   Berwyn, IL @ Wire  *tickets